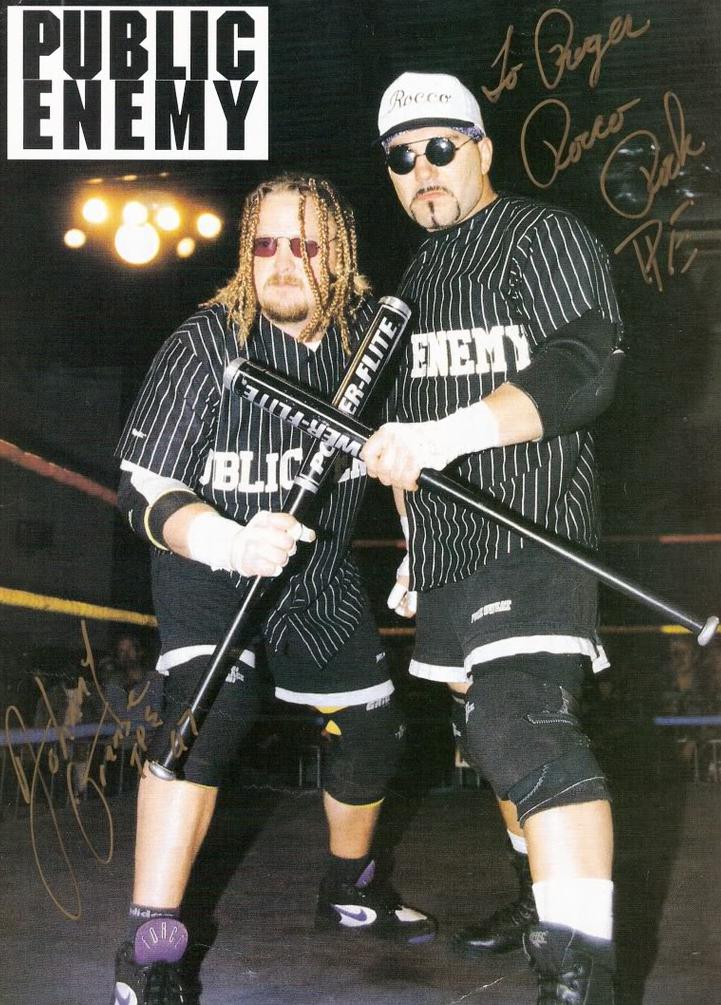 This week's Dead Wrestler Wednesday is a 2-for-1 deal, as I feel it's more than appropriate to remember both members of Public Enemy together.  The duo of Mike Durham and Ted Petty, better known as Johnny Grunge and Rocco Rock, respectively, wrestled together as a tag team in all three of the 1990s major promotions – WCW, ECW, and WWF.  Even before they found success in the aforementioned wrestling juggernauts, they engaged in a long running feud on the independent circuit while wrestling under the names Johnny Rotten and the Cheetah Kid.
The Public Enemy were a cornerstone of Extreme Championship Wrestling as the Philadelphia-based promotion gained momentum in the mid-90s.  Their feud with the Gangstas, an East Coast vs West Coast showdown, is considered one of the great ECW rivalries.  They were also involved in some of ECW's most iconic moments, including being in the ring when chairs from the audience rained down onto Terry Funk.  Another classic moment that was made possible by the Public Enemy was the collapse of the ring, which happened after Grunge & Rock invited fans into the squared circle to celebrate with them.
Public Enemy never found the same success in WCW as they did in ECW, although they did manage to win the Tag Team Titles during their stay.  Their gimmick remained largely unchanged during their run in Atlanta, as they still approached the ring to hip hop music and were synonymous with the use of tables.  Their WWF career was not much better, as they were begrudged by many backstage for choosing to sign with WCW first.  After just two months with the World Wrestling Federation, the Public Enemy were "run out" by the Acolytes, never to appear with the company again.
The Public Enemy made their final mainstream television appearance on ECW on TNN in late 1999, after which they returned to the indy scene.  In the Fall of 2002, Flyboy Rocco Rock suffered a fatal heart attack following an appearance at a wrestling show.  A little over three years later, in February of 2006, Johnny Grunge passed away due to complications from sleep apnea.  The have both since been inducted into the ECW Arena's Hardcore Hall of Fame, becoming two of the Hall's first three inductees.