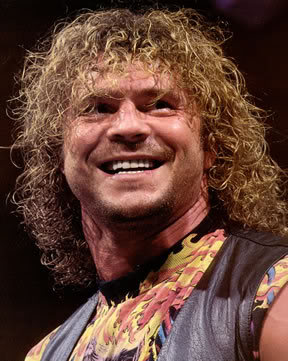 Over the past few weeks, CM Punk has turned the wrestling world on its ear by blurring the line between fiction and reality, leaving even the smarkiest of wrestling fans unsure of what to expect next.  While he may be in the process of perfecting the art of the worked shoot, Punk is not the first man to find great success by utilizing unpredictability as his primary tool.  In the mid-90s, Brian Pillman was changing the rules of the wrestling industry, one notorious incident at a time.
A former defensive tackle for the Cincinnati Bengals, Pillman trained in the legendary Hart Dungeon, where he forged bonds with the Hart family that would remain in tact for the duration of his life.  He first gained national exposure as part of the WCW roster, where he competed under the moniker of Flyin' Brian, a reference to his aerial style and uncanny agility.  A pioneer in bringing elements of lucha libre into the United States, Pillman was a multiple time WCW Light Heavyweight Champion.  He also captured tag team gold while with the company as a member of the Hollywood Blondes alongside "Stunning" Steve Austin.  Perhaps his time in WCW is best remembered for being part of a Four Horsemen reformation, aligning himself with Ric Flair, Arn Anderson, and Chris Benoit in one of the group's incarnations.
It was towards the end of Pillman's tenure in World Championship Wrestling that he began to cultivate his Loose Cannon persona.  Taking an edgy appearance and behaving erratically, Pillman tore down the wall between fact and fiction.  During a match with Kevin Sullivan at SuperBrawl VI, Pillman sarcastically bemoaned "I respect you, booker man," effectively outing Kevin Sullivan as one of WCW's chief bookers.  Following the pay-per-view, Pillman was fired from the company.  According to numerous sources, including Eric Bischoff himself, the plan was for Pillman to spend some time in ECW, further develop his infamous reputation, and return to WCW.  Always one to keep the industry on their toes, Pillman did no such thing.
Instead, he used his position to transform himself into wrestling's hottest commodity.  His antics in ECW were nothing short of outrageous – attacking a fan with a fork, dropping racial slurs, even threatening to expose himself and urinate in the middle of the ring.  Rather than return to WCW, Pillman was able to parlay his intense popularity into a lucrative contract with the World Wrestling Federation.  He was the first wrestler to ever sign a guaranteed deal with Vince McMahon's Federation, one that would prevent him from abruptly jumping ship to Ted Turner's promotion.  Just prior to signing the contract, Pillman was part of a tragic automobile accident, one that put him in a coma for a week and shattered his ankle.  As a result, upon his WWF debut, the Loose Cannon served as a commentator while recovering.  Eventually aligning himself with the Hart Foundation, Pillman's most memorable WWF moment came during his feud with his former partner, "Stone Cold" Steve Austin.  The line separating wrestling and reality may have never been bent so far as it was during the infamous "Pillman's Got a Gun" segment on November 4, 1996 episode of Monday Night Raw.
The world lost Brian Pillman on October 5, 1997.  His death was the result of a previously undetected condition, arteriosclerotic heart disease, that had also led to the death of his father.  The Loose Cannon left behind a wife and four children, along with two stepchildren.  He was 35 years old at the time of his death.