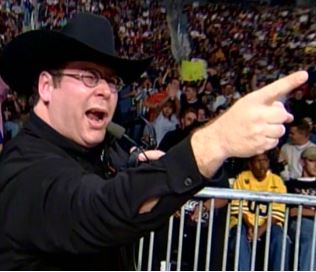 Continuing our focus on the cruiserweights, this week's installment of Ghastly Gimmicks pulls back the curtain on who was surely the worst Cruiserweight Champion of all time, Oklahoma. In late 1999, the WWE parted ways with their top creative writing team, Vince Russo and Ed Ferarra. Almost immediately, the duo sought refuge with the WWE's top competition, World Championship Wrestling. By and large, the best days of both writers were behind them, and that became painfully obvious once they arrived in WCW. It wasn't just their writing that was a problem, though – it was also the fact that they made themselves focal points of Nitro & Thunder as on-screen characters every week. Vince Russo would notoriously go on to win the WCW World Heavyweight Championship, while Ed Ferarra…well, he became one of the most abhorred characters in the history of pro rasslin'.
Taking the name Oklahoma, Ferarra's character was an obvious and distasteful parody of Jim Ross. Going so far as to mock Ross' Bell's Palsy, Oklahoma provided fans with a reason to not watch WCW. At worst, the character was offensive and off-putting.  At best, it was just plain not funny. Coming to the ring with his signature BBQ and using JR-esque colloquialisms, Oklahoma brought literally nothing original to the table. Thankfully, the character was short lived, only wrestling in five matches before riding off into the sunset. In addition to wrestling Asya (who was as blatant a Chyna rip-off as Oklahoma was a JR one), Oklahoma also twice did battle with Medusa. The second time, in what would be his final WCW match, he was able to defeat the former Ms. Blaze for the WCW Cruiserweight Championship at Souled Out '00.
Three days alter, Oklahoma vacated the title, due to the fact that he was not a wrestler about 60 pounds over the weight limit. A tournament was held to crown a new Champion, won by another Ghastly Gimmick of yesteryear. Oklahoma, mercifully, would soon be gone forever. Though Ed Ferrara has publicly apologized to Jim Ross since the character's demise, I think an apology is also owed to any fans subjected to watching him perform as the character, one of the ugliest stains on an already dark era of professional wrestling.